Physical exercise leads to systemic adaptations which promote long-term physical and mental health. The molecular basis underlying these bodily adaptations remains elusive. Extracellular vesicles (EVs) increase in the circulation upon diverse exercise interventions and are speculated to be involved in the physiological adaptation processes induced by regular physical exercise. In collaboration with the Department of Sports Medicine, Rehabilitation and Disease Prevention (University of Mainz) we study the release kinetics, cellular origin, cargo and functions of EVs that are released into the bloodstream in response to physical exercise – ExerVs.  
Our recent work revealed that cycling, as well as running exercise rapidly mobilizes ExerVs into the circulation starting in an early phase of exercise before exertion is reflected by increasing lactate levels, indicating that ExerV release may represent an active signalling mechanism. Detailed phenotyping of ExerVs via multiplexed-marker analysis methods ('EV Array' and 'MACSPlex') revealed that ExerVs originate from leukocytes, including lymphocytes (CD4+EVs, CD8+EVs), monocytes (CD14+EVs) and antigen-presenting cells (MHCI+EVs, MHCII+EVs), as well as endothelial cells (CD105+EVs, CD146+EVs) and platelets (CD41b+EVs, CD62P+EVs).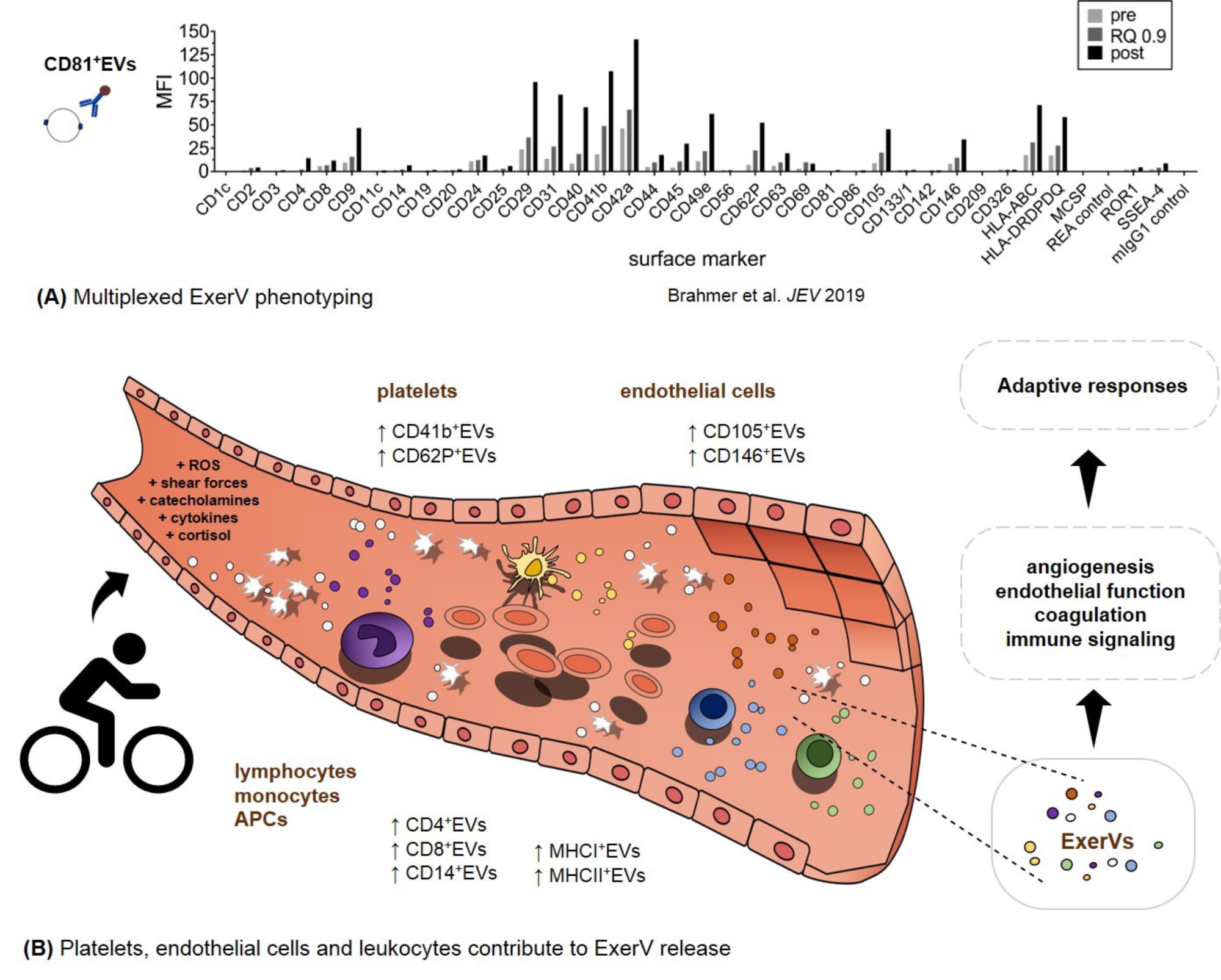 Since EVs may carry DNA and circulating cell-free DNA (cfDNA) levels in blood also rise during exercise, we are investigating the topological association of cfDNA with ExerVs. Only a minor part of exercise-derived cfDNA is possibly transported via EVs. However, the molecular mechanisms of an active liberation of cfDNA as well as possible functions of cfDNA are not fully understood. Further characterization of the association of cfDNA with distinct ExerV subpopulations will determine the role of ExerVs in these processes.
Relevant Publications
Considerations for the Analysis of Small Extracellular Vesicles in Physical Exercise. Brahmer A, Neuberger EWI, Simon P and Krämer-Albers E-M (2020) Front. Physiol. 11:576150 DOI:10.3389/fphys.2020.576150
"Brainstorming": Extracellular Vesicles in Physical Activity and Neuronal Health. Brahmer, A and Krämer-Albers, EM. Trillium Extracellular Vesicles, 2020, Vol. 2, 11-15
Platelets, endothelial cells and leukocytes contribute to the exercise-triggered release of extracellular vesicles into the circulation. Brahmer A, Neuberger E, Esch-Heisser L, Haller N, Jorgensen MM, Baek R, Möbius W, Simon P, Krämer-Albers EM. J Extracell Vesicles. 2019 May 28;8(1):1615820. doi: 10.1080/20013078.2019.1615820. eCollection 2019. PMID: 31191831 Free PMC article.
Association of Circulating Cell-free DNA Released During Physical Exercise with Extracellular Vesicles. Neuberger E, Brahmer A, Boztepe B, Krämer-Albers EM, Simon P. (2019)  American College of Sports Medicine (ACSM) Annual Meeting. Orlando, Florida, USA, 2019.
Physical exercise induces rapid release of small extracellular vesicles into the circulation. Frühbeis C, Helmig S, Tug S, Simon P, Krämer-Albers EM. J Extracell Vesicles. 2015 Jul 2;4:28239. doi: 10.3402/jev.v4.28239. eCollection 2015. PMID: 26142461 Free PMC article.
Release of bulk cell free DNA during physical exercise occurs independent of extracellular vesicles. Helmig S, Frühbeis C, Krämer-Albers EM, Simon P, Tug S. Eur J Appl Physiol. 2015 Nov;115(11):2271-80. doi: 10.1007/s00421-015-3207-8. Epub 2015 Jul 1. PMID: 26126838
Funding
Intramural Funding JGU Stufe 1
Collaborators
Susanne Helmig (Dep. Sportsmedicine, JGU Mainz)
Former Lab Members
Carsten Frühbeis
Katharina Mayr